Animals Postively Influence Children With Autism
By Stacy W. Kish on April 16, 2013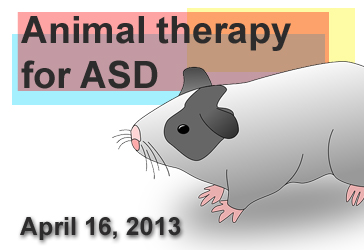 Background: Previous studies report that an animal can moderate stress in people. Children diagnosed with Autism Spectrum Disorder (ASD) often experience problems socializing with their peers and adults, leading to stressful interactions like bullying. A new study examines how animal interaction in the classroom environment benefits ASD children.
What's new: Researchers at the University of Queensland, Brisbane, Australia evaluated the effect of guinea pigs or motivating toys in socialization of ASD children with their typically developing peers. The researchers found the ASD children spoke to their peers, looked at faces, smiled, and laughed more in the presence of animals compared to toys.
Why it's important: Future therapies might engage animals to improve interaction between ASD children and their typically developing peers, as well as therapists and teachers.
Help me understand :
| | | |
| --- | --- | --- |
| | | Source(s) : |