Autism Could be Indicated by Sniffing Patterns
By Chelsea E. Toledo, M.A. on July 14, 2015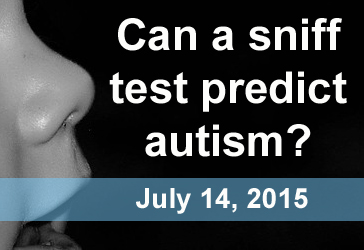 Background: Sensory-motor coordination involves integration between the parts of the brain that receive and interpret stimuli and those that facilitate action in response. For example, upon touching a hot surface, people immediately remove their hands. Studies have suggested that sensory-motor coordination is atypical in people with autism spectrum disorder (ASD).
What's New: On July 2, 2015, the journal Current Biology published a study exploring the response to odors in children with and without ASD. The researchers used a device to measure the time to sniff and duration of sniff for 36 children between the ages of 4 and 11 who were presented with pleasant and foul odors. They found that the 18 typically developing children followed the same sniffing patterns seen in adults; they would sniff pleasant odors for longer periods of time, but respond with brief sniffs when presented with foul odors. The 18 children with ASD, however, sniffed both pleasant and foul odors for the same amount of time. Using the device, the researchers were able to predict 81 percent of ASD cases.
Why it's important: This study suggests that the olfactory response is different in children with ASD, with more pronounced differences in children with higher degrees of social impairment. Future research could determine whether the researchers' method, which requires no verbal response, could be used to help diagnose the disorder in very young children to allow for early intervention.
Help me understand :