CDC Reports ASD Rate Now 1 in 68
By Shana R. Spindler, Ph.D. on March 28, 2014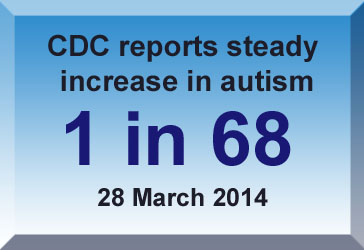 Background: Every few years, the United States Centers for Disease Control and Prevention (CDC) monitors the rate of Autism Spectrum Disorder (ASD) across the country. Participants in the CDC-funded Autism and Developmental Disabilities Monitoring (ADDM) Network collect data on 8-year-old children from a sampling of United States communities. In 2007, they published their first report, which showed that about 1 in 150 children had ASD. Since then, the rate has made a steady climb. In 2009, the number rose to 1 in 110. This was followed by 1 in 88 with ASD in the 2012 report.
What's New: The CDC now reports that approximately 1 in 68 children in the United States have some form of ASD. The rate of ASD varies by community, with rates as low as 1 in 175 children in Alabama, contrasted to 1 in 45 in New Jersey. Of note, nearly half of the children with ASD had average or above average intellectual ability (IQ greater than 85), as compared to only 32 percent in 2002.
Why it's important: Population-based studies are an important component of estimating ASD rates. It's difficult to pinpoint why ASD rates are steadily increasing in the United States. Several factors may be at work, such as better detection methods, increased autism awareness, or environmental influences.
Help me understand :