Cognitive Therapy Boosts Outcomes for Adults with Autism
By Chelsea Toledo, M.A. on January 9, 2018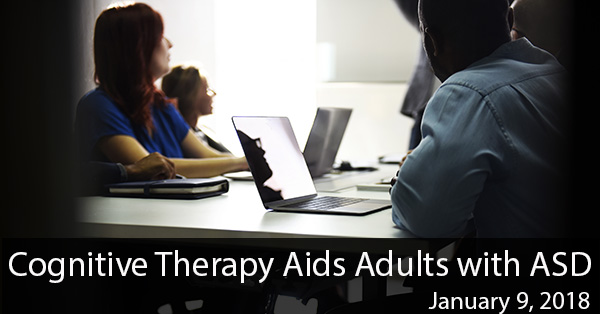 Background: Autism Spectrum Disorder, or ASD, is marked by differences in the processing and communication of both social and non-social information. While a wealth of research has focused on the benefits of early intervention for children with ASD, relatively few studies have explored the effects of therapies on affected adults.
What's New: A recent study evaluated a technology-based rehabilitation approach known as cognitive enhancement therapy (CET) among adults with ASD. The researchers administered therapy over the course of 18 months to 54 individuals, between the ages of 16 and 44, identified as verbal with ASD. The participants for CET underwent computer-based neurocognitivie training along with group-based training focused on social cognition development.  Interestingly, the outcome of CET was compared to that from another therapy, enriched supportive therapy involving improvement of coping skills in individual and group-based sessions.
The researchers found:
Both forms of therapy were linked to improvements in neurocognitive function (measured by MATRICS Consensus Cognitive Battery), with the participants who underwent CET enjoying greater gains after 9 months, but not after 18.
The greatest improvements among the participants who underwent CET were in attention and processing speed.

Following the trial, the participants who underwent CET were rated higher than the other participants in managing emotions, emotional intelligence, tolerance, and perception.

Individuals who received CET were much more likely to secure employment following after 9 months of the trial.
Why it's important: This study suggests that cognitive enhancement theory could improve outcomes for adults with ASD, meriting further research.
Help me understand :
| | | |
| --- | --- | --- |
| | | Source(s) : |