Digestive Enzyme Supplement May Improve ASD Symptoms
By Shana R. Spindler, Ph.D. on August 18, 2015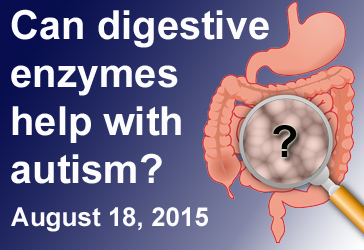 Background: Gastrointestinal ailment is frequently observed in individuals with Autism Spectrum Disorder (ASD). Several studies have shown that individuals with ASD may lack proper digestive enzymes, such as lactase—an enzyme that helps digest the lactose in dairy products. One theory is that undigested nutrients may contribute to some of the core symptoms of autism and any co-occurring gastrointestinal distress.
What's new: On August 31, 2015, the journal Clinical Psychopharmacology and Neuroscience published a randomized, double-blind, placebo-controlled study investigating the benefits of digestion enzyme supplementation for children with ASD. The researchers gave 92 children with ASD between 3 to 9 years of age either a combo of gastric enzymes (papain and pepsin) or a sugar syrup placebo, to be taken at each meal. After three months, the group receiving the enzymes showed significant improvement in emotional response, general behavior (mainly improved restrictive, repetitive, and stereotypic behavior), and gastrointestinal symptoms.
Why it's important: This study supports the need for a larger, randomized, double-blind study of digestive enzymes for children with ASD. According to the authors, digestive enzymes are inexpensive, readily available, and safe for use.
Help me understand :
| | | |
| --- | --- | --- |
| | | Source(s) : |