Follow-up of symptoms associated with autism
By Shana R. Spindler, Ph.D. on January 26, 2016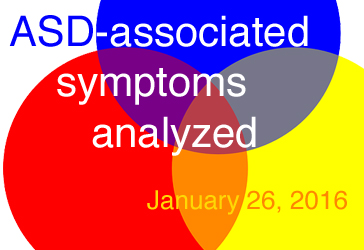 Background: Previous studies have shown that Autism Spectrum Disorder (ASD) is frequently associated with a number of health conditions in addition to the core symptoms of social communications and repetitive behavior. The rate and time course of these co-occurring symptoms, such as sleep disturbances or gastrointestinal (GI) problems, have not been fully analyzed.
What's new: In the February 2016 issue of Research in Autism Spectrum Disorders, researchers from the National University of Ireland published a two-year follow-up study to examine co-occurring conditions in 56 children and adolescents with ASD. They found that sleep problems and GI symptoms persisted in about 91 percent and 84 percent of the participants, respectively. High rates of sleep problems co-occurred in individuals with bloating, nausea, abdominal pain, diarrhea, and/or constipation.
The researchers found that almost 93 percent of the participants had a family history of autoimmune disorders. Individuals with a history of thyroid disorders had greater GI symptoms, while a history of ulcerative colitis or Crohn's disease associated with depressive symptoms, repetitive behavior, and sleep duration.
Why it's important: This is the first study to investigate several comorbid conditions over two years. The results suggest a link between autoimmune disorders, GI symptoms, and sleep problems in children and adolescents with ASD, but additional research is needed to make any conclusions.
Help me understand :
| | | |
| --- | --- | --- |
| | | Source(s) : |