Older Adults with Autism May Need Psychiatric Care
By Chelsea Toledo, M.A. on April 26, 2018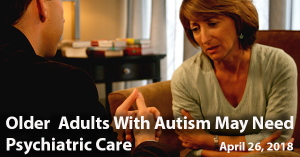 Background: While Autism Spectrum Disorder (ASD) is most often diagnosed in childhood, the disorder affects people of all ages. However, very little research has been to assess the needs of older adults with ASD.
What's New: A recent study looked into co-occurring conditions in people over the age of 50 with ASD. The researchers examined data from more than 600 individuals who were eligible for disability services in Sweden between 2002 and 2012 – all with ASD diagnoses. They aimed to determine the rates of intellectual disability, affective disorders, mental illness, substance abuse, and pharmaceutical prescriptions in this group.

The researchers found:
The majority of individuals in this group (57%) had no intellectual disability.

Half of the individuals assessed had at least one psychiatric disorder, and the most commonly diagnosed were affective disorders such as bipolar.

Most of the group (63%) had received some sort of psychiatric care.

Individuals in this group were very likely to have been prescribed some sort of psychotropic medication – with 63% of patients with no diagnosed intellectual disability and 84% of patients with intellectual disability having been prescribed antipsychotic drugs.
Why it's important: This study suggests that older people living with ASD have a need for psychiatric care services. Further study of this group could find explanations for the patterns in co-occuring conditions (such as higher rates of psychiatric disorders among people with Asperger's syndrome), and guide therapeutic interventions for this vulnerable group.
Help me understand :
| | | |
| --- | --- | --- |
| | | Source(s) : |