Omega-3 Fatty Acids Fail to Improve ASD Symptoms
By Shana R. Spindler, Ph.D. on April 8, 2015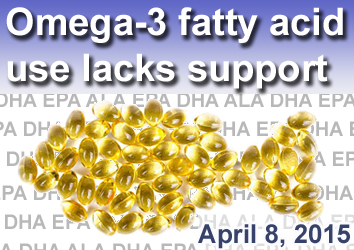 Background: According to a 2006 study, nearly 30 percent of children with autism use some form of omega-3 fatty acid supplementation. Omega-3 fatty acids are a special type of polyunsaturated fatty acid. They are highly concentrated in fish (in the form of DHA and EPA) and some plants (in the form of ALA), but can be taken in pill or oil form too. Because DHA is a critical factor in brain growth and development, research groups have investigated if omega-3 fatty acid supplementation can improve ASD symptoms.
While several studies report a decrease in hyperactivity among children who take omega-3 fatty acid supplements, in no study was this correlation significant. Adding to the confusion, many studies were very small and lacked randomized, double blind controls. Yet, despite a lack of scientific evidence showing effectiveness, omega-3 fatty acid use remains a staple in the ASD complementary and alternative treatment toolkit.
What's new: On March 21, 2015, the online journal Molecular Autism published a study on DHA plus EPA supplementation for children (two to five years of age) with ASD in a randomized, double blind, placebo-controlled study. The researchers found no significant difference in core or associated symptoms between children receiving DHA and EPA versus placebo. They did, however, find a significant worsening of externalizing behaviors in the DHA plus EPA group. The researchers hypothesize that exacerbation of underlying gastrointestinal issues in the omega-3 fatty acid group may account for the significant worsening of externalizing behaviors.
Why it's important: This study clearly indicates the lack of significant correlation between omega-3 fatty acid supplementation and ASD symptom improvement. The study also suggests that omega-3 fatty acid supplementation may worsen externalizing behaviors in children with co-occurring gastrointestinal issues, but this observation requires replication before conclusions can be made.
Help me understand :
| | | |
| --- | --- | --- |
| | | Source(s) : |