Repetition May Impair Learning in Autism, Study Finds
By Chelsea E. Toledo, M.A. on October 15, 2015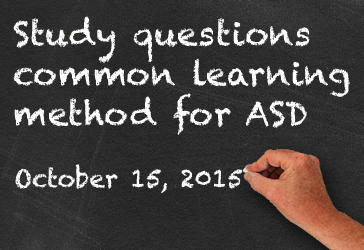 Background: Cognitive flexibility refers to the ability to shift one's thinking in response to a change in stimuli. Studies have shown that people with autism spectrum disorder (ASD) often struggle with cognitive flexibility. For example, after successfully completing a drill of identifying an object in a picture, individuals with ASD don't always transfer that knowledge when asked to identify the same object in another picture.
What's New: On October, 2015, the journal Nature Neuroscience published a study exploring the roots of cognitive inflexibility as it relates to ASD. The researchers administered a test to 23 high-functioning adults with ASD and 19 typically developing controls, asking them to locate a set of diagonal bars among horizontal bars on a screen multiple times over a period of eight days, with the location of the target switching on the fifth day. The ASD group performed similarly to the control group over the first four days, but not on days five through eight. However, a second group of participants and controls underwent a similar test – only with "dummy" screens shown in between tasks – and the ASD group did not experience the same dip in performance when the target switched locations.
Why it's important: This study suggests that, while repetition may be an effective way to teach a single concept, repeated stimuli may in fact derail longer-term learning for people with ASD. Future studies could lay the groundwork for less repetitive learning models to aid in the education of people with ASD.
Help me understand :
| | | |
| --- | --- | --- |
| | | Source(s) : |