Study Questions Gluten- and Casein-Free Diets for ASD
By Chelsea E. Toledo, M.A. on July 23, 2015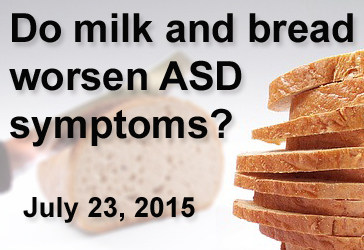 Background: Autism Spectrum Disorder (ASD) has been linked to gastrointestinal issues, and some families follow specific dietary guidelines to allay both digestive and behavioral symptoms. In particular, these diets have excluded gluten and casein—proteins found in bread and milk, respectively. While some healthcare professionals recommend a gluten-free, casein-free diet—commonly known as a GFCF diet—studies that confirm its efficacy are lacking.
What's New: On July 4, 2015, the journal Acta Paediatrica published a study exploring the effects of gluten and casein on the gastrointestinal and behavioral symptoms of children with ASD as well as the urine concentration of a protein previously associated with behavioral issues in autistic children. The researchers performed a double-blind, randomized clinical study on children between the ages of 4 and 7 with severe behavioral issues related to ASD, all of whom were already on a gluten- and casein-free diet. After giving a gluten-casein supplement to 38 children and a rice meal placebo to 36 children for one week, they found no significant difference between the two groups in behavior, urinary protein expression, and level of gastrointestinal disruption.
Why it's important: While previous studies have evaluated the effects of eliminating gluten and casein from the diets of children with ASD, this is the first study to explore the results of adding the proteins back in. Future studies could evaluate the long-term effects of gluten and casein on behavior and gastrointestinal symptoms, given the limited exposure time to these proteins in this study.
Help me understand :
| | | |
| --- | --- | --- |
| | | Source(s) : |