Study Suggests Mobile App Helps Social Interaction
By Chelsea E. Toledo, M.A. on October 29, 2015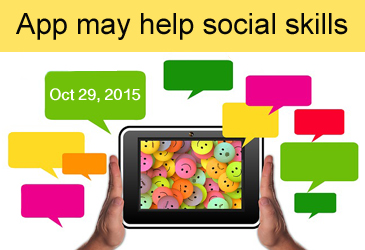 Background: Advances in mobile computing, such as iPad, hold promise as assistive or adaptive tools for individuals with autism spectrum disorder (ASD). Numerous ASD-related apps are commercially available. However, very few studies have rigorously tested their utility for improving social skills in people with the disorder.
What's new: An upcoming issue of Association of Computing Machinery Transactions will include a study exploring the potential of a mobile app to improve social interaction in children with ASD. The researchers grouped eight children with ASD into four pairs, and alternated activities for each pair over a period of four weeks. The children had blocks to play with on weeks one and three and a two-player iPad game called Zody to play with on weeks two and four. Interviews conducted at the end of the four-week period suggested that the iPad game – which required players to take on collaborative roles – helped improve social interaction skills in the participants.
Why it's important: This study may provide a proof of the principle that electronic assistive technologies can help improve social interactions in children with ASD. Future studies with larger participant groups could demonstrate this concept further and refine the use of specific assistive technologies.
Help me understand :
| | | |
| --- | --- | --- |
| | | Source(s) : |