Survey Redesign Raises ASD Prevalence Estimate
By Shana R. Spindler, Ph.D. on December 1, 2015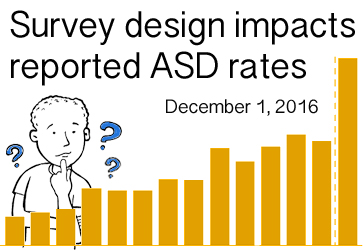 Background: The National Health Interview Survey (NHIS) is a national, parent-reported household survey, which includes questions about lifetime autism spectrum disorder (ASD) diagnosis. For several years, the NHIS reported a lower rate of ASD in the United States compared to other major surveys at the time. To what extent survey design, wording, and presentation affect the reporting of ASD diagnosis is an important area of investigation.
What's new: Survey question wording and order have a significant impact on report rates for ASD, according to a new National Health Statistics Report. Researchers compared the ASD rate between the 2011-2013 NHIS and the 2014 NHIS, which included several changes in questions related to ASD. The 2014 survey included a stand-alone question about ASD diagnosis placed before questions about other developmental disabilities, and the survey language included terminology such as autism, Asperger's disorder, and pervasive developmental disorder. With these changes, the reported ASD rate climbed from 1 in 80 to 1 in 45 for children ages 3 to 17 years. The 2014 survey included approximately 13,000 participants.
Why it's important: This study highlights the importance of survey design for accurate estimates of ASD prevalence. Based on the short time period between the 2011-2013 and 2014 surveys, the authors state that an environmental factor is unlikely to have caused the dramatic increase in ASD prevalence between the two surveys.
Help me understand :
| | | |
| --- | --- | --- |
| | | Source(s) : |