UK Study Finds Predictors for Antipsychotic Use in ASD
By Shana R. Spindler, PhD on October 22, 2015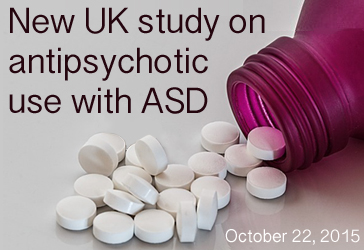 Background: About one tenth of children with autism spectrum disorder (ASD) in Europe receive antipsychotic medication. In the United States, that fraction climbs to one third. To date, two drugs—risperidone and aripiprazole—are are approved by the FDA to treat irritability in children with ASD, but little is known about antipsychotic use for other co-occurring conditions.
What's new: On October 15, 2015, the journal European Child & Adolescent Psychiatry published a study detailing antipsychotic use in children with ASD. United Kingdom (UK) researchers examined medical records for 3,482 UK children diagnosed with ASD between 2008 and 2013. They found that children with ASD in the UK who were hyperkinetic, psychotic, depressive, obsessive compulsive, or who had tic disorders were more likely to take antipsychotic medications. Antipsychotic prescription also followed higher levels of aggression, self-injurious behaviors, poor general functioning, and increased parental concern for the child's symptoms.
Why it's important: To date, this is the largest study to correlate antipsychotic use with ASD and co-occurring conditions. An overarching goal with studies like these is to give clinicians the necessary tools to predict who might benefit most from available therapy options. Additionally, the results of this study may inform clinical trial design, as clinical trials frequently omit children with any comorbid conditions.
Help me understand :
| | | |
| --- | --- | --- |
| | | Source(s) : |