Very Early Therapy Eases ASD Symptoms, Study Suggests
By Shana R. Spindler, PhD on September 16, 2014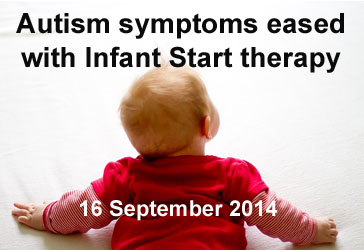 Background: While many children with autism are diagnosed during their late toddler and preschool years, there is an ongoing attempt to identify very early signals, such as lack of eye contact, even during infancy. Newer studies are now focusing on treatment for infants suspected of having autism or being at increased risk for the disorder.
What's new: Researchers at the University of California, Davis, MIND Institute report a promising behavioral therapy for Autism Spectrum Disorder (ASD), called Infant Start. Based on the Early Start Denver Model, Infant Start is a parent-led behavioral intervention that emphasizes parent-child social interactions from infancy.
Symptomatic infants between seven and 15 months of age, and their parents, participated in a 12-week, low-intensity pilot program. During weekly sessions, highly trained therapists coached parents in individualized behavioral therapies, which parents continued in the home environment. By 18 months, the children who participated in Infant Start had significantly fewer autism symptoms than the children of families who chose not to enroll in the pilot study.
Why it's important: This study supports the idea that early treatment for autism may alleviate some of the core symptoms associated with the disorder, as seen in previous studies on toddler-age children.
Help me understand :