Wandering is Common and Dangerous in Autistic Children
By Mark N. Ziats on October 11, 2012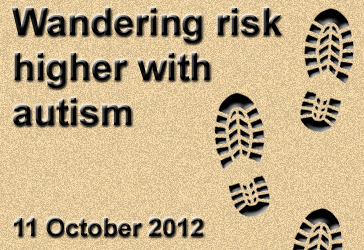 Background:  Anecdotal reports from parents with autistic children have suggested that wandering away from caregivers is a serious and potentially dangerous problem. However, no study has systematically assessed this issue in a large number of patients.
What's new:  Using an online questionnaire of more than 1200 families with an autistic child, researchers discovered that almost half of autistic children had wandered away from home, and of those who wandered, half were gone for a long enough period to cause serious concern. This was significantly higher than their siblings without autism. Moreover, the autistic children were often in serious danger of drowning or traffic injury when they wandered off. Greater severity of autism was associated with a higher chance of wandering behavior.
Why it's important:  This study provides the first rigorous assessment of this problem, allowing further studies to focus on effective means of preventing, intervening, and helping parents to cope with wandering behavior. It also serves to highlight the importance of this problem for childcare professionals, teachers, and others who may be involved with autistic children.
Help me understand :