Autism Quiz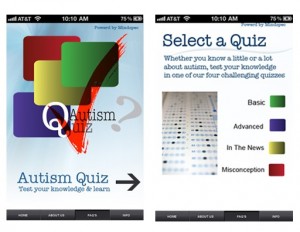 Key Questions
(ALL QUIZZES ARE 10 QUESTIONS EACH)
Autism Reading Room offers four challenging quizzes! Each quiz comprises ten multiple choice or true/false questions. By taking a quiz, you can learn new information about autism in a fun and interactive way. Plus, you might clarify a few misconceptions that are prominent in the community.
The "Basic quiz" examines basic information about autism, from diagnostic criteria to common behavior patterns. The "Advanced quiz" asks up-to-date questions about the latest advances in autism research. The "Misconceptions quiz" addresses issues about autism that are commonly misunderstood. The "In the News quiz" reviews your familiarity with the latest autism news. If you want to try an older In the News quiz, you can check out the quiz archives.
We also provide a free "Quiz App" that can be downloaded in the Apple iTunes store. The "Quiz App," which we released in November 2013, is compatible with iPhone 3GS, iPhone 4, iPhone 4S, iPod touch (3rd generation), iPod touch (4th generation) and iPad. The app requires iOS 5.0 or greater. The category of the app is "Education."
If you get a few questions wrong, brush up on your autism information in Autism Reading Room!
Misconception
Research into autism biology and autism treatment is not receiving enough attention and is lagging behind research in other scientific fields.
Fact
The growth in autism research in the past few years has been substantially larger than that in other related research fields.
Read about other misconceptions.