Combined Genetic Tests May Improve ASD Management
By Chelsea E. Toledo, M.A. on September 24, 2015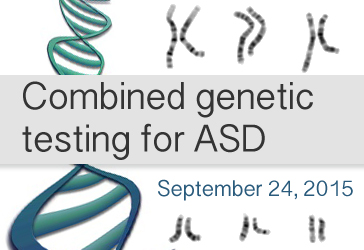 Background: Autism spectrum disorder (ASD) is thought to be caused by a combination of genetic and environmental factors. To date, variations in hundreds of genes have been associated with ASD, and these explain only a small fraction of individuals with autism. Although no genetic tests are available for the diagnosis of ASD, genetic testing could offer guidance for medical management. Some tests look for big changes in DNA, while others check for small variations.
What's New: On September 1, 2015, the Journal of the American Medical Association published a study exploring the utility of combining two genetic tests. The researchers administered chromosomal microarray analysis (CMA) – which identifies large genetic abnormalities, such chunks of missing DNA – to 258 unrelated children with an ASD diagnosis. They then applied whole-exome sequencing (WES) – which helps to identify variations in the protein encoding portions of DNA – to 95 of those children, who also had physical abnormalities sometimes associated with the disorder. They found that, individually, those tests could reveal information about a child's susceptibility to ASD about eight percent of the time. However, when applied together in children with physical abnormalities, CMA and WES were able to provide an informative diagnosis 38 percent of the time.
Why it's important: While still not precise enough to provide an initial ASD diagnosis, genetic tests can be useful in informing ASD medical management. Autism-linked genetic variations might predispose a child to other medical conditions, and when combined, CMA and WES could help care providers identify what comorbid conditions to prepare for.
Help me understand :