Common DNA Variations May Be Largest Factor in Autism
By Shana R. Spindler, Ph.D. on July 22, 2014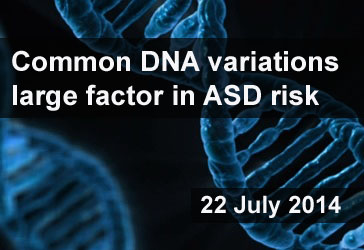 Background: The list of autism-associated genes has grown dramatically as researchers identify more and more genetic risk factors. But are these autism-linked genetic variations more often inherited from parents or formed de novo in the child?
What's new: Common, inherited variations in DNA may be the largest cause of autism, according to a new study published in Nature Genetics. According to the researchers, a little over 50 percent of autism cases are from a combination of widespread genetic variations, which alone do not lead to autism, passed from parents to a child. In contrast, new DNA mutations in the child only account for 2.6 percent of autism cases.
Why it's important: This study highlights the complexity of common genetic variations underlying autism.
Help me understand :