Disorder-Specific Screening Catches More ASD Cases
By Chelsea E. Toledo, M.A. on March 20, 2014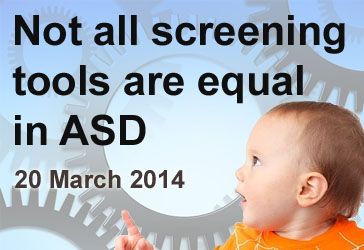 Background: The American Academy of Pediatrics recommends that physicians screen all children for autism spectrum disorder (ASD) beginning at 18 months of age (http://www.cdc.gov/ncbddd/autism/hcp-recommendations.html). However, while most pediatricians routinely administer tests for a broad spectrum of developmental disorders, very few report that they screen specifically for ASD.
What's New: The February 2014 issue of the journal Autism presents a study (originally published online December 21, 2012), comparing the ability of two types of screening tools to detect ASD in young children. The researchers evaluated 52 children between 18 and 24 months of age, using the Parents Evaluation of Developmental Status (PEDS) and Modified Checklist for Autism in Toddlers (MCHAT), as well as the updated M-CHAT with follow-up interview (M-CHAT+FUI). All participants then underwent diagnostic evaluation, resulting in 30 ASD diagnoses. While the broad PEDS screening caught 17 of those cases, the M-CHAT and M-CHAT+FUI detected 28 and 27, respectively.
Why it's important: From the results, the researchers concluded that a combination of broad and disorder-specific screenings provide optimum detection of ASD cases, allowing for early intervention for those children ultimately diagnosed with ASD. However, with the release of the Diagnostic and Statistical Manual of Mental Disorders-Fifth Edition in May 2013, the diagnostic criteria for ASD shifted. Future studies will need to address how the new requirements for ASD affect the success of screening tools.
Help me understand :
| | | |
| --- | --- | --- |
| | | Source(s) : |