Home Videos Reveal Early Autism-Related Behaviors
By Chelsea E. Toledo, M.A. on November 9, 2012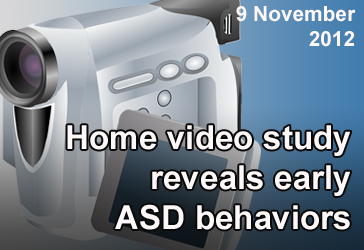 Background: By the time they reach school age, children with Autism Spectrum Disorder (ASD) are known to differ from developmentally delayed (DD) children in their patterned reactions to various stimuli. However, less is known about how those patterns of hyporesposiveness—or a lack of response to stimuli—and hyperresponsiveness—or an extreme response to stimuli—manifest when those children are younger than school age.
What's New: In a report published in the American Journal of Occupational Therapy, researchers detail a qualitative study of home videos featuring 12 children—six with ASD and six with DD. From the videos, which were taken when the children were between 0 and 2 years old, the researchers discerned behaviors associated with hyporesponsiveness and hyperresponsiveness, as well as sensory repetitions such as mouthing objects. They found that children in the ASD group displayed patterns not present in the DD group: The children either remained hyporesponsive from infancy to school age, or they shifted from hyporesponsive behaviors to sensory repetition as they aged.
Why it's important: Studies have shown that early diagnosis and intervention for ASD yields positive outcomes for the affected children. Further research on sensory patterns in infants and toddlers could implicate hyporesponsiveness as a behavioral precursor for ASD, leading to an earlier diagnosis.
Help me understand :
| | | |
| --- | --- | --- |
| | | Source(s) : |