How People with ASD See the World Differently
By Chelsea E. Toledo, M.A. on November 10, 2015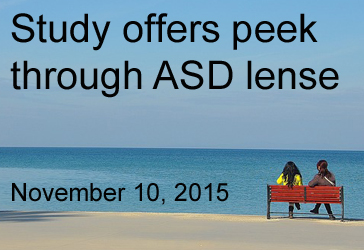 Background: Autism spectrum disorder (ASD) affects three major and inter-related areas: communication, social interaction, and behavior. Research has shown that people with the disorder read faces and other social cues differently than their typically developing peers, which could contribute to the observed behavioral symptoms in ASD.
What's New: On November 4, 2015, the journal Neuron published a study exploring how general gaze – not just at faces – may differ in individuals with ASD. The researchers showed 700 naturalistic images capturing common daily scenarios to 20 people with ASD and average IQ. Using an eye-tracking device to follow their gaze, they found that, when compared to 19 peers with typical development, the ASD group spent more time focused on the center of an image, even if there was no object in the image's center. They also found that the ASD group took longer to focus on faces in the images, but were quicker than their typically developing peers to focus on mechanical objects.
Why it's important: This study suggests that differences in gaze observed in people with ASD is not limited to reading faces, but represents a larger perceptive difference. Larger studies are needed to further define these differences in atypical visual processing in ASD. The eye tracking methodology holds much promise as a non-behavioral early ASD diagnostic marker.
Help me understand :