Neural Basis of Noise Overload in ASD Explained
By Shana R. Spindler, PhD on November 17, 2015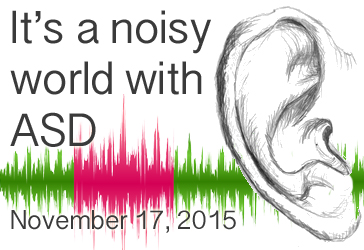 Background: About 90 percent of people with Autism Spectrum Disorder (ASD) experience some form of sensory-related symptoms, such as over or under sensitivity to sights, sounds, and even tastes (reviewed in Geschwind, 2009). Researchers have hypothesized that an abnormal adaptation to sensory stimuli may underlie the social and communication difficulties seen in ASD.
What's new: On November 5, 2015, Scientific Reports published a study examining loudness adaptation in 20 adults with ASD and 20 neurotypical individuals. The researchers found that adults with ASD were slower and less able to adapt to a continuous, low-level sound than neurotypical adults.
In the study, the participants listened to a soft, constant sound for several minutes and recorded the perceived volume of the sound at specific time intervals. While the neurotypical individuals said the sound decreased by about 50 percent in volume over time—even though the volume of the sound was unchanged—adults with ASD perceived a mere 20 percent reduction. In contrast, adaptation to loud sounds with intermittent disruptions was similar between neurotypical adults and those with ASD.
Why it's important: The adaptation to constant, quiet sounds is thought to involve a different part of the brain than adaptation to loud, interrupted sounds—think of the hum of a refrigerator versus a fire alarm. Therefore, this is the first study to show that noise overload in ASD may stem from a neural inability to adapt to certain sound types. Interestingly, for individuals with ASD who reported using coping strategies, their adaptive responses were closer to neurotypical individuals.
Help me understand :
| | | |
| --- | --- | --- |
| | | Source(s) : |