Parent-Rated Measure Comparable to Established Test
By Chelsea E. Toledo, M.A. on August 28, 2013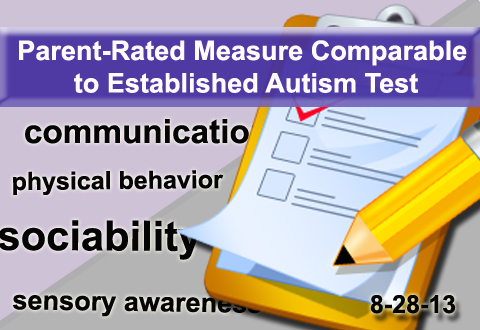 Background: Most assessments for autism spectrum disorder (ASD) assess social skills, communicative abilities, and repetitive behaviors. The Autism Treatment Evaluation Checklist (ATEC), administered by parents, tests for ASD's physical manifestations as well, but has not been extensively evaluated against standard ASD diagnostic tools.
What's new: On July 3, 2013, a study comparing ATEC to a more established assessment measure was published online in the Journal of Mental Health Research in Intellectual Disabilities. The researchers administered the Child Autism Rating Scale (CARS)—a well-established test for ASD severity—to 56 children aged 2 to 16. Participants' parents then completed the ATEC survey, which elicited information about the children's communicative levels, sociability, sensory awareness, and physical behavior. They found a significant association between participants' scores on the ATEC and CARS measures.  However, larger studies are needed to validate this tool.
Why it's important: This study provides support for the utility of parent-rated ATEC measure to assess ASD. Because the test includes physical criteria, it could provide a more complete picture of children affected by ASD. You can complete the ATEC online at http://www.surveygizmo.com/s3/1318614/Autism-Treatment-Evaluation-Checklist.
Help me understand :
| | | |
| --- | --- | --- |
| | | Source(s) : |