Possible Autism Biomarker in Tiny Regulators
By Shana R. Spindler, PhD on September 10, 2014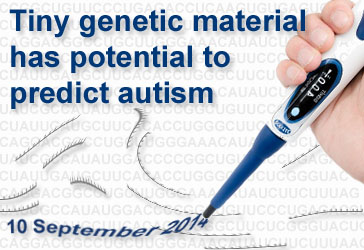 Background: Several studies have shown that early intervention helps children with Autism Spectrum Disorder (ASD) improve critical social and language skills. Unfortunately, doctors still lack a non-behavioral clinical test to find out if a child has or will develop ASD. Diagnosis is therefore delayed until the child reveals social or language deficits, usually by two to four years of age. Researchers are now searching for autism biomarkers, an objective measurement that can predict the likelihood that a child has autism, even before behavioral symptoms used for diagnosis appear.
What's new: A group of Japanese researchers report in Molecular Autism that a new class of small gene regulators, called microRNAs (miRNAs), may help predict ASD. The team of scientists found that individuals with autism had higher levels of eight specific miRNAs in serum samples compared to control individuals. In contrast, five miRNAs showed lower levels in those with autism. MicroRNAs are like little zip ties that bind gene products to control the cell from making certain proteins. The researchers identified several proteins involved in neuron biology among the protein targets affected by the miRNAs in this study.
Why it's important: To date, the medical community lacks a biomarker of any type for autism. This is the first study to show that specific miRNAs are found at different levels in the serum of those with autism versus controls. Serum collection is a relatively safe and noninvasive procedure. These results suggest that the measurement of serum miRNAs may serve as a biomarker for autism, but additional studies are needed to confirm this finding.
Help me understand :
| | | |
| --- | --- | --- |
| | | Source(s) : |