Study Supports Role of Maternal Autoantibodies in ASD
By Shana R. Spindler, Ph.D. on July 25, 2013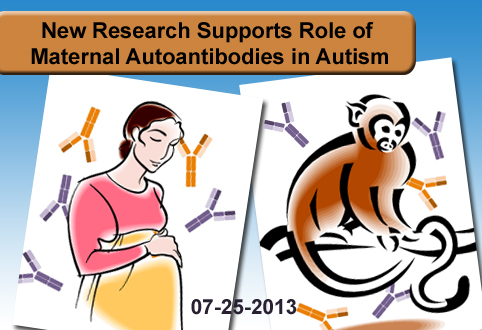 Background: Over the past several years, researchers have presented correlation between the existence of autoantibodies in mothers and an increased diagnosis rate of Autism Spectrum Disorder (ASD) in their children. Autoantibodies are Y-shaped proteins of the immune system that bind one or more of the body's own proteins. Researchers hypothesize that autoantibodies can pass through the developing blood-brain barrier of a fetus and inhibit the function of proteins important for brain development.
What's new: Two back-to-back studies published on July 9, 2013, in the journal Translational Psychiatry provide compelling support for the hypothesis that maternal autoantibodies contribute to ASD risk. The first study examined which proteins of the body are targeted by the autoantibodies. The researchers reported that each of the target proteins identified has a known role in neuron development and/or function. Mothers with certain combinations of autoantibodies were more likely to have children with stereotypical ASD behaviors than mothers who did not carry those same autoantibody combinations.
In the second study, researchers tested the causative role of autoantibodies in ASD by injecting purified antibodies from mothers who have children with ASD (called IgG-ASD) into pregnant rhesus monkeys. As a control, researchers injected purified antibodies from mothers of typically developing children into a separate group of pregnant monkeys. The monkeys born to mothers injected with IgG-ASD had more difficulty forming reciprocal social interactions than did the monkeys born to mothers injected with control IgG. Upon further examination, the researchers found that male monkeys born to mothers injected with IgG-ASD had increased white matter volume in the frontal, occipital, and parietal lobes of the brain.
Why it's important: These two studies are remarkable for three important reasons: First, the fact that specific combinations of maternal autoantibodies are predictive of an ASD diagnosis in children suggests that autoantibodies are a promising biomarker candidate for some cases of autism. Second, while many studies are only correlative, the experiment in pregnant rhesus monkeys suggests a causative mechanism in the link between mothers' autoantibodies and ASD in their children. Third, pharmacological intervention to block autoantibody activity offers new therapeutic opportunities for maternal autoantibody-related autism.
Help me understand :