Researchers Probe Blood Biomarkers for ASD
By Chelsea E. Toledo, M.A. on February 9, 2015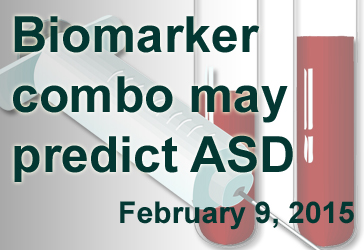 Background: At present, the only way to diagnose autism spectrum disorder (ASD) is through a series of behavioral screenings administered by trained professionals. While no laboratory test for ASD is currently available, recent studies have suggested that certain features detected in the blood could prove reliable as biomarkers for the disorder.
What's new: The January 2015 issue of Neuroscience included a study evaluating two components in blood, serotonin and interleukin-6, as biomarkers for detecting ASD. While serotonin helps to regulate mood, interleukin-6 plays a role in the body's inflammatory response to invading pathogens. The researchers performed blood tests on a total of 66 individuals—35 with ASD and 31 with typical development—whose average age was 12. They found that levels of serotonin and interleukin-6 were significantly elevated in the individuals with ASD, and were highest in those with the most severe forms of the disorder.
Why it's important: The study found that, when taken together, serotonin and interleukin-6 were very reliable biomarkers for ASD—as blood tests looking for both molecules were accurate nearly 90 percent of the time. This work could lead to a clinical blood test for ASD risk, and could point the way to treatments targeting serotonin and interleukin-6.
Help me understand :
| | | |
| --- | --- | --- |
| | | Source(s) : |