Sensorimotor Differences in ASD Appear in Infancy
By Chelsea E. Toledo, M.A. on August 4, 2015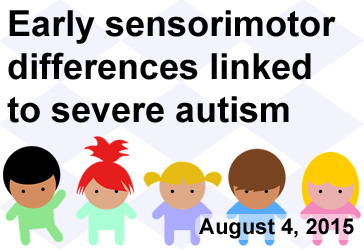 Background: In the United States, one in 68 children is estimated to have Autism Spectrum Disorder (ASD). Children who have an older sibling with the disorder face a much higher risk, which studies have estimated to be about one in 10. Researchers can study these infants and toddlers at high risk of ASD to learn about the early onset characteristics of autism.
What's New: On July 16, 2015, The Journal of Neurodevelopmental Disorders published a study exploring differences in behavioral, cognitive, and adaptive development among infants at high and low risk of developing ASD. The researchers performed established screenings to assess the behavior of 308 children—210 of whom were high-risk and 98 of whom were low risk for ASD—at 6, 12 and 24 months of age. They classified 49 of the high-risk children as having ASD at 24 months, with the children who most closely matched the profile demonstrating sensorimotor deficits at 6 months of age. In contrast, the less severely affected children displayed their first differences in the form of socio-communication skills by two years of age.
Why it's important: Previous studies on infants have revealed differences first appearing in social and communicative abilities. This finding—that children most severely affected by ASD have early sensorimotor difficulties—could reveal some of the physiological basis for the disorder, leading to earlier diagnosis and intervention.
Help me understand :
| | | |
| --- | --- | --- |
| | | Source(s) : |