Study Paves Way for Blood Test for Autism
By Chelsea E. Toledo, M.A. on June 2, 2015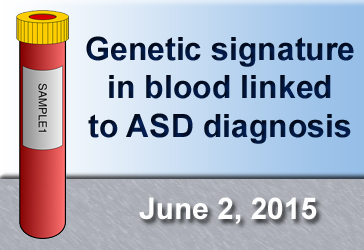 Background: To date, trained clinicians diagnose Autism Spectrum Disorder (ASD) by structured behavioral observation of a child. The typical age of ASD diagnosis is between the ages of four and five in US children. However, research has shown that interventions performed earlier in life lead to better outcomes in children with the disorder.
What's New: On April 1, 2015, JAMA Psychiatry published a study testing the effectiveness of genetic biomarkers in the blood to predict whether very young children would receive an ASD diagnosis. The researchers first looked for factors differentiating the blood of 147 male children between the ages of one and four—56 with typical development and 91 who were diagnosed with ASD by their third birthday. They identified a genetic signature related to the body's immune response that was 83 percent accurate at predicting whether participants had ASD. The researchers were able to replicate their findings in a separate group of 73 children, which included 44 boys with ASD.
Why it's important: This study provides proof of the principle that immune-related gene expression differs in people with ASD. Future work could lead to a blood test to screen for the disorder in children as young as one year old, allowing for earlier intervention.
Help me understand :