Study Sheds Light on Development of Neurons in ASD
By Chelsea Toledo, M.A. on January 14, 2019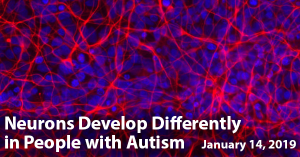 Background: Stem cells are cells that have the potential to grow into many of the body's different cell types during the process of development. To better understand development, scientists often rely on induced pluripotent stem cells (iPSCs), which are adult cells that have been reprogrammed to emulate embryonic stem cells. This allows scientists to model the development of diseases and other conditions outside of the body.
What's New: A recent study explored the development of brain cells, or neurons, derived from iPSCs taken from people with autism spectrum disorder (ASD) as compared to those from their typically developing peers. The researchers took skin cell samples from 8 people with ASD and 5 people without ASD between the ages of 6 and 19. They transformed those cells into iPSCs, from which they coaxed neuronal cells.
In observing the development of the neuronal cells, the researchers found key differences in the cells that came from people with ASD, including:
The cells grew to a bigger size with more complex branches.
Networks of the cells behaved differently, with certain brain development processes beginning earlier.
Those brain processes involved genes that have been associated with ASD.
Why it's important: This study sheds light on the early development of ASD. Future studies could refine strategies for earlier diagnosis.
Image: Neuronal cells derived from induced pluripotent stem cells (National Center for Advancing Translational Sciences/National Institutes of Health)
Help me understand :