Low Birthweight Linked to Autism
By Shana R. Spindler, Ph.D. on November 10, 2011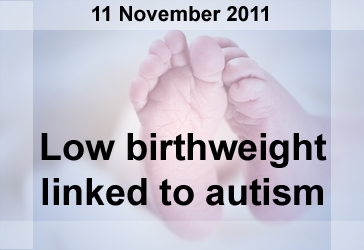 Background: According to a new study, children born at a low birthweight may be at an increased risk for developing autism. Researchers at the University of Pennsylvania School of Nursing and School of Medicine followed over 1100 infants who weighed less than 4.4lbs at birth to the age of 21 by periodic assessment.
What's new: The group reported in the Oct 17 online edition of Pediatrics that an estimated 5% of children born under 4.4lbs will go on to develop Autism Spectrum Disorder (ASD). The researchers followed low-birthweight infants to age 21, likely capturing both severe and mild forms of ASD.
Why it's important: According to the Centers for Disease Control, 1% of 8-year-old children have ASD, indicating that a low birthweight may increase a child's risk of developing the disorder by five-fold.
Help me understand :