Updated Catalog of Autism Genes Unveiled
By Sharmila Banerjee-Basu, PhD on November 4, 2014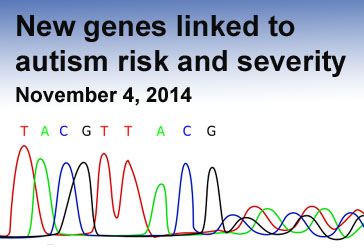 Background: Autism Spectrum Disorder  (ASD) is a genetically heterogeneous condition in which hundreds of genes have been associated with the disorder. Large consortiums of scientists are working together to better define the genetic underpinnings of autism. An unmet challenge in the field is how to connect the genetic profile to clinical features of ASD—a necessary first step for targeted treatment.
What's new: Two research groups report an updated list of ASD risk genes based on statistical analysis that quantifies the genes' role in the October 29, 2014, online issue of Nature. Both groups utilize exome sequencing—where scientists read only the protein coding part of the genome—to sequence the DNA of individuals with ASD and controls. The larger study, led by an International Consortium, sequenced 3,871 ASD cases and 9,937 controls. The other study analyzed more than 2,500 families with a single child affected by ASD from Simons Simplex Collection. Together, the studies reveal an updated list of ASD-associated genes, including several novel genes.
Why it's important:  The new studies have advanced our understanding of autism by replicating earlier findings of excess, spontaneously arising genetic glitches—known as de novo mutations—in ASD individuals. Another key finding addresses the gender bias in autism: ASD females and ASD males with low IQ have a different genetic risk architecture than ASD males with high IQ. Finally, the risk genes belonging to individuals with severe ASD significantly overlap with risk genes identified in Schizophrenia and Intellectual disability.
Help me understand :