Updated Screening Tool Helps Provide Early ASD Diagnosis
By Chelsea E. Toledo, M.A. on January 15, 2014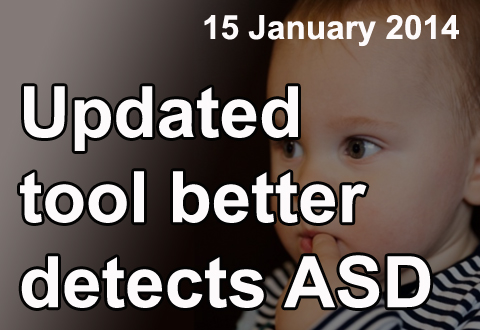 Background: Early intervention has been shown to have positive outcomes for children with autism spectrum disorder (ASD). However, the disorder is typically diagnosed in children over the age of four, with an average age of diagnosis ranging from 38 to 120 months for all ASDs. During the last decade, researchers developed a screening assessment that could be administered at toddlers' regular medical check-ups, with the aim of facilitating earlier diagnosis.
What's new: On December 23, 2013, the journal Pediatrics published a study evaluating an updated version of that screening tool—called the Modified Checklist for Autism in Toddlers, Revised with Follow-up (M-CHAT-R/F). The researchers administered the 20-question checklist—which assessed children's physical, social, and communicative habits—to parents of 16,071 children at their 18- and 24-month well-child care visits. Based on the responses, children were classified as low-, medium-, or high risk—with a follow-up questionnaire to refine the classification of those allocated to the medium-risk category. One percent of the children were ultimately deemed high-risk and were referred for further evaluation. Of those, 95 percent had confirmed developmental delays, and 47.5 percent received ASD diagnoses.
Why it's important: From the results, the researchers concluded that the updated version of the M-CHAT is better at detecting ASD than its previous iteration. At the same time, the newer version of the screening tool classifies a smaller proportion of children as high- or medium-risk—reducing the number of families who would need to pursue follow-up testing.
Help me understand :