Four Key Trends Found for ASD Traits and Recurrence
By Shana R. Spindler, Ph.D. on November 5, 2015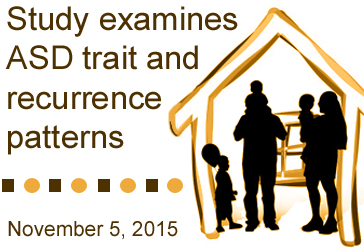 Background: Several studies suggest that in families containing one or more individuals with Autism Spectrum Disorder (ASD), non-diagnosed members have increased presence of ASD-related traits. However, little is known about the prevalence or nature of these traits among the siblings in families where multiple members have ASD.
What's new: On October 27, 2015, the journal Molecular Autism published a study exploring autism symptom pattern and recurrence in families with children on the spectrum. The researchers compared data for over 5500 siblings from the Autism Interactive Network. By examining single versus multiple incidence of ASD in a family, as well as the affected gender, the researchers discovered four key trends:
Non-diagnosed children who have more than one sibling with autism possess an increased and specific pattern of autistic traits—namely resistance to change and restricted interests.
Children with ASD from multiple incidence families are less symptomatic than those from single incidence families.
A history of language delay with atypical speech is a risk factor for both social and restrictive/repetitive behavior symptoms in children not diagnosed with ASD from single or multiple incidence families.
Males who are born into a multiple incidence family including at least one female with ASD are at a greater risk for possessing autistic traits. Likewise, families containing any number of females with ASD have greater recurrence risk for future children.
Why it's important: This study may useful for the genetic counseling of families with ASD who are considering having another child, or for parents who are worried about their children's risk of having a child with ASD. The study supports the idea that females require a greater risk factor burden before entering into an ASD diagnosis, making it more likely that males in the same family will have more severe autistic traits. It's important to note, though, that currently there is no way to predict if anyone will or will not have a child with ASD or ASD-related traits.
Help me understand :
| | | |
| --- | --- | --- |
| | | Source(s) : |