Motor Deficits with ASD Linked to Right Side of Brain
By Shana R. Spindler, PhD on August 10, 2016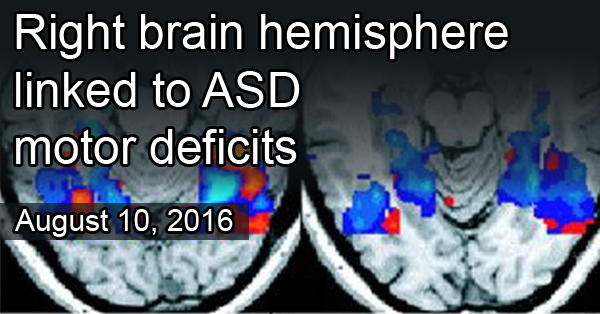 Background: At least 80% of children with autism spectrum disorder (ASD) have motor problems, according to recent estimates. Typical problems include delayed motor skills and trouble with coordination, such as kicking a ball or grasping small objects. In some cases, motor problems are apparent before other ASD symptoms.
What's new: A new brain imaging study looked at motor control in the left and right sides of the brain in 8 to12 year old children with ASD. Researchers visualized brain activity, during a finger-tapping task, of 44 children with high-functioning autism and 80 typical, control children. Normally, regions in the left side of the brain specialize in language and motor functions. Previous work found that these regions are right-side dominant for language processing in children with ASD. Similarly, in this study researchers found brain regions that were right-side dominant for motor control too.
Why it's important: This is the first study to look at left- and right-brain activity related to motor functions in children with ASD. The finding that some motor control is shifted to the right side of the brain in ASD is important given the potential for brain imaging to provide markers for early diagnosis.
This work was published on July 14, 2016, in the journal Molecular Autism.
Help me understand :
| | | |
| --- | --- | --- |
| | | Source(s) : |