Newborns at Risk for Autism Differ in Social Preferences
By Shana R. Spindler, Ph.D. on June 9, 2016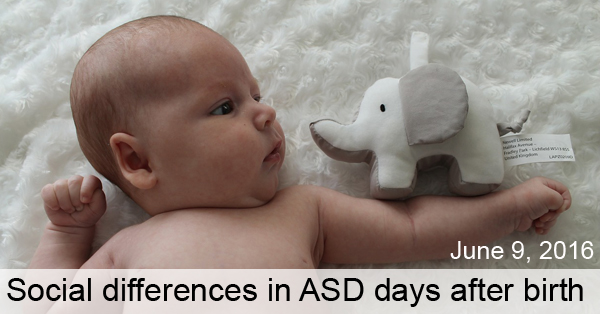 Background: Newborn babies pay close attention to relevant social cues, such as a mother's face. Some researchers hypothesize that the social preferences typically seen in infancy are impaired in autism, leading to an underdevelopment of "social brain" networks.
What's new: On May 20, 2016, Scientific Reports published a study that examined social preferences in newborns at high risk for autism. The researchers showed social and non-social images to 13 newborns with high risk of autism and 16 newborns with low risk of autism—all between 6 and 10 days old. Researchers scored each newborn on how much he or she looked at the social versus non-social images. According to the report, the newborns at high risk for autism looked significantly more at the non-social images than the low-risk infants did.
Why it's important: This is the first study to show that babies at high risk for autism show diminished social attention as early as 6 days after birth. Future research could include a larger number of infants and follow up to see if the high-risk infants receive an Autism Spectrum Disorder diagnosis.
Help me understand :
| | | |
| --- | --- | --- |
| | | Source(s) : |