Apps by MindSpec
MindSpec currently supports two apps:"Autism Decoder" and "Autism Quiz"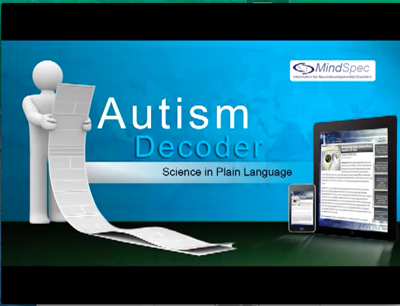 Autism Decoder App: Every four hours, scientists publish a research paper about autism, but how can this enormous volume of research help you? We have an app for that.
Brought to you by a team of interdisciplinary scientists, the Autism Decoder app is a new mobile interface that describes the latest autism research findings in easy-to-understand writing. You can flip through research summaries chronologically or by your category of interest. You can even click a simple link to the original publication source. With Autism Decoder, we will deliver autism research snapshots to the palm of your hand, empowering you to make informed choices.
You can download "Autism Decoder" for FREE on the iTunes website.
You can also download "Autism Decoder" for $4.99 without ads.
Autism Quiz App: Whether you know a little or a lot about autism, test your knowledge in one of our four challenging quizzes. Our "Beginner" quiz examines basic information about autism, from diagnostic criteria to common behavior patterns. For our readers with advanced autism knowledge, the "Advanced" quiz asks up-to-date questions about the latest advances in autism research.
Perhaps you simply want to identify any misconceptions you have about autism spectrum disorders. In our true/false "Misconceptions" quiz, you can learn about autism issues that are commonly misunderstood in the community. Finally, review your familiarity with the latest autism news using our "In the News" quiz. You might just learn something new!
You can download "Autism Quiz" for FREE on the iTunes website.