The 1970s
Highlights
• First demonstration of genetic basis of autism
• Attachment theory discredited
• Second form of Rimland Checklist published
• Language problems recognized to be due not to severe language impairment but to a language delay, which is a critical characteristic of autism
• Children with autism shown to have a cognitive defect that affects interpersonal verbal and nonverbal communication
• Research inadequate and inconsistent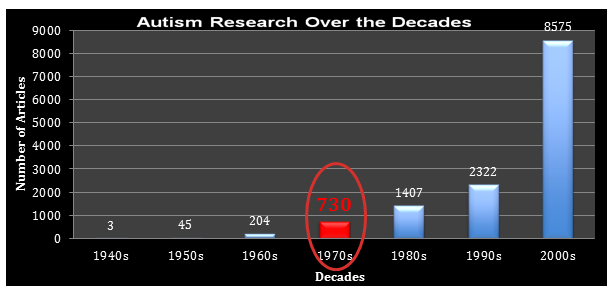 Research in the 1970s
In the 1970s, the psychiatrists Susan Folstein of Tufts University and Sir Michael Rutter (of University College London) published a study of twins with autism, proving that autism had a genetic basis.[1] Rutter also modified Bowlby's attachment theory, concluding that lack of maternal attachment was a "vulnerability factor" rather than a "causative agent" for autism. The common understanding of autism's underlying cause shifted more toward genetic predisposition or injury during development.[1][2][3] Researchers also discovered that the language problems of a child with autism were due not to severe language impairment but rather to a language delay.[4] This language delay was pivotal in distinguishing autism from other neurodevelopmental disorders, specifically dysphasia.[4] In addition, new studies indicated that children with autism had a cognitive defect that affected processing of interpersonal verbal and nonverbal communication.[5] Researchers decided to determine whether failure to respond to certain stimuli (one of two) would be an important factor in the development of autism,[6] as individuals who were mentally disabled would respond to two. The methodology used in the 1970s was inadequate and inconsistent, leading to sweeping generalizations about autism.[7]
Ross Senter, Karthik Kumar, and Sharmila Banerjee-Basu, Ph.D.
References:
Folstein S, Rutter M (1977) Infantile autism: a genetic study of 21 twin pairs. J Child Psychol Psychiatry 18:297-321. PMID: 562353.
DeMyer MK (1979) Parents and Children in Autism. Washington, DC: VH Winston.
Damasio AR, Maurer RG (1978) A neurological model for childhood autism. Arch Neurol 35:777-786. PMID: 718482.
Bartak L, Rutter M, et al. (1977) A comparative study of infantile autism and specific developmental receptive language disorders. III. Discriminant function analysis. J Autism Child Schizophr 7:383-396. PMID: 599138.
Langdell T (1978) Recognition of faces: an approach to the study of autism. J Child Psychol Psychiatry 19:255-268. PMID: 681468.
Lovaas OI, Shereibman L, et al. (1971) Selective responding by autistic children to multiple sensory input. J Abnorm Psychol 77:211-222. PMID: 5556929.
Rutter M (1968) Autistic children: infancy to adulthood. Semin Psychiatry 2:435-450. PMID: 5527410.